General trade and trademarks
Mayez Holding provides a comprehensive range of products and services from international brands and trademarks that are either owned by the group or sold through them as an exclusive agent. The following sections provide a brief synopsis of the leading companies within the group and their activities:
A sister company of "Mayez Holding" and the exclusive agent in Qatar for (GREE) products and services.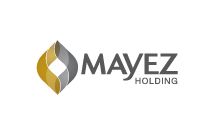 Part of the entities within the Group formed partnerships with major automotive companies, whereby those companies have worked as dealers for some of the most reputable European and Japanese car makers.
The Group has also acquired a world-class car rental dealership with famous rent-a-car brands.